Hotel Ironing Board Set
Views: 21 Author: Site Editor Publish Time: 2019-11-25 Origin: Site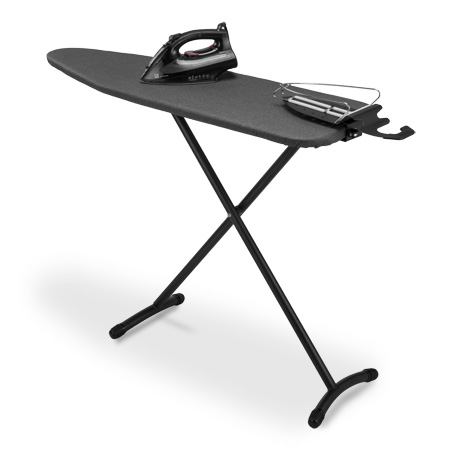 Keeping guest rooms neat and tidy is always important, and HOTELINE ironing centers offer rugged and strong boards combined with advanced steam and dry irons, all to be stowed neatly on the wardrobe rail. Our extra thick steel tubes and sub-frame, and combined with felt padded tops to provide a smooth glide when ironing all kinds of garments. Anti-theft cable locks keep the irons attached to the boards, reducing the incidents of "loss" for the hotel.
There are two sizes of the ironing bards for your option, Full-size(122*40cm) & compact(110*33cm). The compact size is more popular, since no need to take a lot of space in the guest room.
Below is the detail specification of compact ironing board for your review:
Model: HLIB-101(same model as Bentley)
l Rugged Tube Frame Legs 28/32mm
l Finished: black powder coating
l Steam Flow Meta Mesh Top
l 7mm felt sew together with fabric
l Smooth binding edges to withstand fraying
l Cover Material:Anti-fire fabrc- black color
l Cover color: Charcoal grey
l 7 adjustment height
l Open Size: 110X33CM
l Foldable size123x33cm,
l Top length:43",Top width: 13"
l Maximum Height:86cm
l Carton box size:126x25x35cm
In addition, suggest to used Iron holder with ironing board together, The easy hook can be match with both of the iron board with anti-theft ring. Below is the specification of the Iron holster for your review:
Model:HLIH-101
l 360 degree swivel iron holster: The iron holster can be fixed on the ironing board tightly,you can adjust any angle that you need while you using the iron board.
l Anti-Theft cable lock:The cord of iron can fixed on the cable lock, then no one can take away the iron from hotel, this is very good design concept.
l Stores neatly on the rail: after using the iron board, fold it and stone it in the wardrobe
l Protection silicone sleeve: the silicone sleeve on the hook can protect any hanging bar with any scratching
l Size:40*11.5*12cm: this iron hook can fit the steam iron( Model:HLSI-101). If you already have order the iron, need to check the size whether can fit on this iron holster.
Above Ironing board & iron hook are our hot sale products, both with big stock in our warehouse. We can ship them out quickly to meet your delivery demand. Any inquires or further, please feel to contact us.
Welcome to visit our website:www.laicozy.com to review more information & photos of ironing board and iron hook etc. Hotel products.