Hotel Room Service Trolley with hot box
Views: 548 Author: Site Editor Publish Time: 2019-09-17 Origin: Site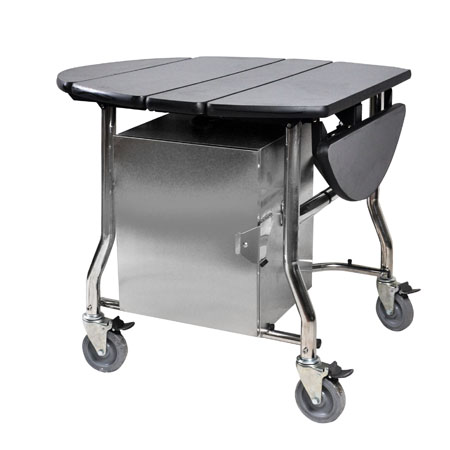 Do you have any experience of calling the room service to order the food??
Believe that most people must have this kind of experience as below:
1)Very tire and do not want to go out for the meal.
2)Just want to save the time and stay in the guestroom.
3)You do not familiar with the new place or can not speak the local language to order the food outside.
So, let's talk about Room service trolley.
The table top of room service trolley usually in the Round shape or square shape, used used 25cm plywood ,and the table top goes with foldable design by 3 or 5 panels that is quite flexible to fold it to go through the door or adjust the table size to meet various requirement .
The frame usually used the 201 or 304 stainless steel to against the rust.
The room service trolley goes with 4pcs 4inches wheels , two with breaks to easy control while pushing the room service trolley.
The room service trolley usually goes with the hot box, put the food into the hot box to avoid the food get cold before delivery the food to the guest room. It's a very intimate service to our guest.
We have two type of hot box, one is goes with the electric, another use for alcohol burner. Most customer will order the electric one, but you need to confirm us the plug type(usually we make it with BS or EU plug, 220V/50Hz as stock), please let us know if you have special request before confirm the order.
If you order the one without electric, that namely need to purchase the alcohol burner before using it .
How to use the electric hot box?
Just plug it in around ten minutes, then the heating tube will get warm, the highest temperature around 70 degree for the place nearest the heating tube.
Average temperature inside the hot box around 40 degree, then plug it off and put the food inside the hot box and delivery to the guestroom.
BTW,Each room service trolley can fit hot box.
Room service trolley is one of the hot sale products in our company, so usually we produce a certain number for inventory. If the customer need them urgently, we can ship them out immediately.
Our factory in Fo shan, welcome to visit us and know more about our products quality.