Hotel Stainless Steel Luxury Luggage Carts
Views: 26 Author: Site Editor Publish Time: 2019-10-08 Origin: Site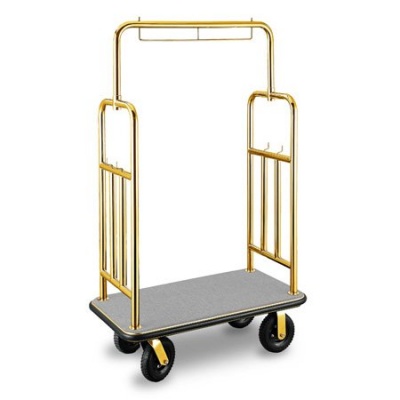 Hotel luggage carts in hotels are used to promote luggage for star-rated hotel customers. They are commonly used in high-end hotels.
Hotel luggage truck is mainly made of stainless steel, titanium, copper and other materials. The types of hotel luggage truck can be roughly divided into the following categories according to different manufacturing materials:
Titanium Luggage Truck
Titanium-gold luggage truck is made of Titanium-gold material. It has toughness, corrosion resistance, silver brightness, no blackening, no sensitization to anyone, good antioxidant property, and Titanium-gold is the only metal that has no effect on human vegetative nerve.
Stainless steel luggage truck
Stainless steel luggage truck is made of stainless steel material. It has the advantages of toughness, corrosion resistance and silver brightness, but its oxidation resistance is not as good as that of titanium and gold.
Luggage transportation in hotels is known to be "more important than higher", "less important than lower", "more vulnerable under pressure" and other principles. Usually it is loaded with luggage and dragged along, but some small items, lighter items are put on it. And the bellboy is pulling the car forward, it is likely to lose some small pieces of luggage and can not be detected. In this way, it will bring losses to the guests and affect the service quality of the hotel. If it's pushing ahead, the luggage on the train is at a glance. The luggage that has fallen or is about to fall can be detected and stopped in time.
Laicozy specializes in making high-quality luggage trucks. All baggage truck materials in our hotel can be replaced. If carpets are laid on the ground, we recommend pneumatic casters for luggage trucks. TPR wheels are difficult to move on carpets. TPR wheels have two sizes of 6 "/8". According to the needs of customers, we can replace the carpet of stainless steel luggage truck with removable carpet, which is easy to clean.
Each stainless steel Luggage Trolley has a choice of high-grade carpets of different colors. Carpets help hotel luggage trucks prevent boxes and items from sliding off the truck. Carpets can also prevent scratches and damage to your goods during transportation. About the deck is surrounded by a bumper that helps protect walls and furniture if a stainless steel trolley hits them. We usually use grey/black/red/blue carpets on our metal Hotel trolley.
Provide your employees with a fast and convenient way to move boxes and supplies, equipped with lightweight stainless steel baggage trucks, high-end carpet Versatile vehicles. The light trolley has an upright handle, which makes the luggage trolley easy to control without bending down. The trolley is also easy to move because it has two rigid casters and two rotating casters. The size of the hotel trolley means that it can fit into most elevators, so it is the perfect choice for a large hotel, conference center or apartment building.