Hotel popular stainless steel luggage carts
Views: 6 Author: Site Editor Publish Time: 2019-11-28 Origin: Site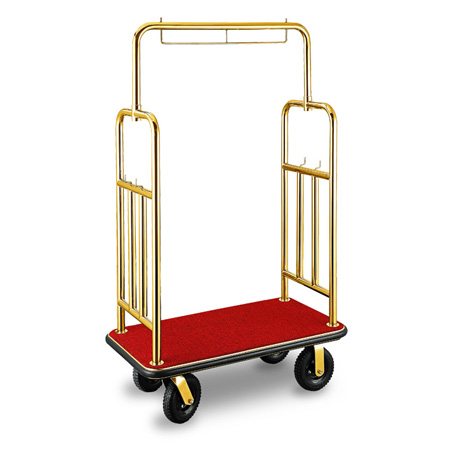 how much do you know about the luggage carts in the hotel?
Hotel luggage cart is mainly made of stainless steel, titanium, copper and other materials. According to different materials, the types of hotel luggage car can be roughly divided into the following categories:
·Folding titanium luggage cart
Titanium luggage car is made of titanium material. It is tough, corrosion-resistant, silver bright, not black, not allergic to anyone, and has good oxidation resistance. Moreover, titanium is the only metal that has no impact on human autonomic nerves.
·Folding stainless steel luggage cart
The stainless steel luggage cart is made of stainless steel, which has the advantages of tenacity, corrosion resistance, silver brightness, etc., but its oxidation resistance is not as good as that of titanium.
·Folding copper luggage cart
Copper luggage trolley is made of copper material, which has the advantages of tenacity, durability, durability, oxidation resistance and corrosion resistance, but the price is relatively high.
In addition to the different structural materials of the luggage car, the handling methods of the luggage car frame are also different. The luggage car of our company is usually treated with mirror light, sanding and titanium metal. You can customize different luggage cars according to your needs. Our luggage car chassis carpet is also made of high-quality materials, which are not only solid in material, but also bright in color, and many colors are available for you to choose.
Our company l mainly deals in stainless steel luggage cars. The stainless steel pipes of luggage cars have three processing methods of mirror light, sanding and titanium. At the same time, our luggage cars also have a variety of colors of high-quality carpets for you to choose from.
A good hotel luggage cart as one of the outdoor lobby items is your first impression to your guests when they first arrived. It's the reflection of the class of your hotel. That's why we Laicozy manufacturer put our most effort in producing top end bellman luggage carts. We use 1.0mm thick corrosion resistant 304 stainless steel material, and top grade carpet and 8 inch high quality wheels for hotel 201 stainless steel luggage trolley. And with perfect welding and nice finish, the bellman luggage trolley gives you a feeling of high class and deluxe. The deck with full wrap around bumper to protect your property. We offer a vast variety of elegant designs of bellman baggage carts, and the finish can be polished, brushed or titanium gold. The carpet color of hotel Luggage carts can be red, blue, black and gray as you like.
If you need high quality beautiful luggage carts, please choose our company
Tips
1.Pay attention to the maintenance and cleaning of the bellman cart, keep its appearance and elegant appearance. In the late night, you should refute the luggage cart to check the area, so as not to make the noise when carrying the luggage;
2. Do not carry more than six ordinary luggage with a small luggage cart, while the maximum baggage cart can only carry 15 pieces of luggage with ordinary weight at the same time;
3. When using the luggage trolley, you should be careful of the front and left side and the right side of the car, so that the hotel luggage trolley will not touch the elevator, the wall paper and the door hang, so as not to damage the property of the hotel and increase the maintenance cost.