How many types of banquet table and cloth can we choose?
Views: 18 Author: Site Editor Publish Time: 2020-05-20 Origin: Site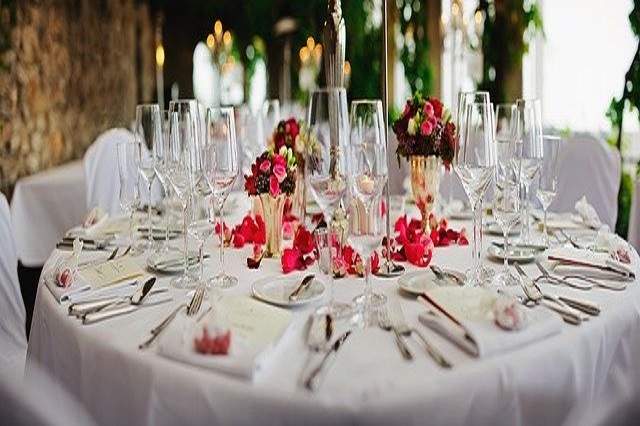 Although the banquet table and cloth of different hotels look roughly similar, they all have their own characteristics. Moreover, according to the requirements of different banquet themes and event organizers, the hotel will also change the style at any time. Therefore, understanding the types of banquet table and cloth is particularly important for selecting and buying them. This article will introduce to you some types and selection methods.
Text:
Types of banquet table
So far, round and rectangular banquet tables are more commonly used types. These two types are not only easy to rent place, but also able to cope with various activities, and are favored by most hotels.
(1) Round banquet table
Round banquet tables can generally accommodate 10 to 12 people, and the common sizes are 60 and 72 inches in diameter. Generally speaking, if guests want to hold a banquet or round table meeting, they can choose this type of banquet table. In this way, it is convenient for everyone to see the stage and talk to each other, make full use of the space, and create a banquet or meeting atmosphere.
(2) Straight banquet table
The straight banquet table is rectangular and can be spliced at will according to the desired length. Banquet tables of this type are often used for meetings and can be arranged in the form of a classroom or in a circle. At the same time, it is also a combination of formal occasions and family dinners.
Types of banquet cloth
(1) Non-woven table cloth:
This table cloth has a solid flat structure made of polyester filaments intertwined with each other. It has a soft hand feel, good drape and anti-wrinkle properties.
(2) Brocade table cloth:
Brocade table cloth is a high-grade decorative fabric. Using silk and rayon as raw materials, the pattern is a delicate pattern on brocade. The texture is thick and shiny, and the appearance is elegant and gorgeous. There are three models: long, square and round.
(3) Craft table cloth:
Craft table cloth are mainly hand-woven, and the craftsmanship is more delicate. Craft table cloths are relatively rare, mainly including drawn-out and silk.
How to choose banquet table and cloth
When choosing the table cloth, we must consider the factors of color, material and cost. Because fashionable colors change constantly with time and season, we should avoid fashionable colors. And in terms of materials, it is necessary to consider the theme and cost of the banquet hall.
Then, when choosing a banquet table, we must consider the size limitation firstly. In order to hold the event smoothly, it must be able to fully accommodate a large number of people and effectively use the space. In addition, the choice of banquet table should be considered together with the table cloth, they must be suitable for each other.
Banquet tables and cloths are the main items used in formal occasions, so whether it is for the event host or the hotel, it is very important for their choice. Therefore, I hope this article can bring you some help in choosing.