Is the mobile stage stable?
Views: 1 Author: Site Editor Publish Time: 2021-07-16 Origin: Site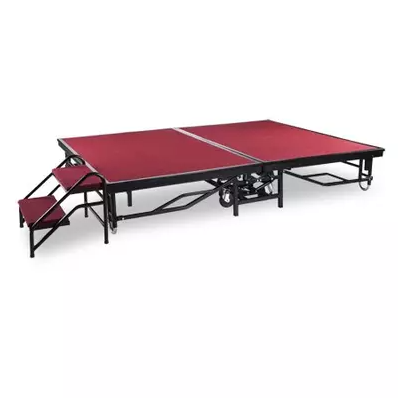 The type of stage you choose is one of the most important decisions you can make when organizing an event. Therefore, a clear understanding of the differences between the two main stage types -- mobile and traditional -- is crucial. Traditionally, the stage was built on site. It is an assembly of structures and materials that must be loaded on a trailer, then unloaded on site, and then moved to where the stage will be built. All these operations require machines, which are labor-intensive and take time. But a mobile stage not only has the advantage of being moveable, but it also has good stability.
Here is the content list:
l Mobile Stage Features
l The mobile stage is independent.
l Mobile stage security
Mobile Stage Features
l The frame is made of high quality steel profile, which is strong and safe.
l Made of advanced sandwich panels, with high strength, pressure resistance, waterproof, sunscreen and other advantages.
l Easy to assemble and disassemble, is the best product for indoor and outdoor exhibition.
l The frame is small after disassembly, easy to transport and store.
l Unit combined structure, can be freely increased or divided according to the size of the site.
l There are no special requirements for the construction site, generally flat ground such as sand, grass, asphalt, cement and ceramic tile floor can be.
The mobile stage is independent.
Unlike traditional stages, mobile stages do not require external ballasts or cables to remain stable: stable design and engineering go directly into the stage. This is true for mobile stages with structures that can withstand 130kph to 140kph (80mph to 90mph) winds; Otherwise, depending on the situation, it may be necessary to consider using a ballast for stabilization purposes, just as with a conventional stage. The traditional stage, because it is custom-built on-site, offers a slight advantage over standard configurations in terms of design possibilities.
Mobile stage security
In addition to mobility, another interesting feature of the mobile stage is its installation security, for a number of reasons. The main one is that the traditional stage had to be built from the ground up, from floor to roof. This installation requires technicians to operate and install various components of the stage structure at high altitude. In contrast, a mobile stage consists of preinstalled panels deployed on the ground, and the installation process does not require work from above. In other words, the mobile stage not only offers unmatched security, but it also offers a faster and easier setup that involves less labor. Once you've identified your needs, make sure the choice you decide on meets the highest safety standards. Make sure you are familiar with your manufacturer and the characteristics of their products.
The main structure of the mobile stage is composed of two parts, one is the main frame of aluminum alloy, the other is the stage board. In fact, it is often equipped with other comprehensive facilities to beautify and perfect the various themed events held. The mobile stage has good stability.