Understanding the KT board sign on the crowd control Stanchion post
Views: 2 Author: Site Editor Publish Time: 2021-11-12 Origin: Site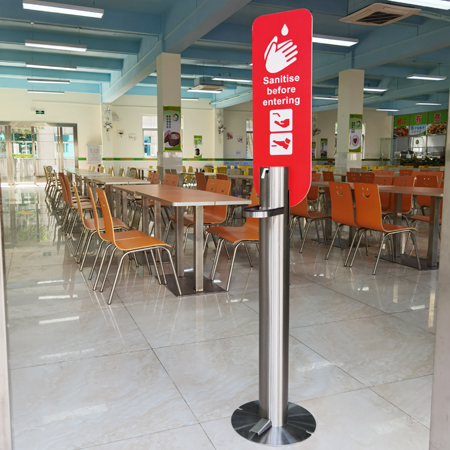 Understanding the KT board sign on the crowd control Stanchion post
Common airport boarding signs many customers do not know how to call this, the actual scientific name is called "rail seat notice board", directly on the telescopic crowd control Stanchion post-column above, there are quite a variety of styles, the common is a square border, A3 or A4 size; there are plastic There are quite a variety of styles, the common is to have a square border, A3 or A4 size; and plastic border, direct clip content; another is directly today to introduce the special KT board railings seat notice board. It is installed on the crowd control Stanchion post, the following to understand it a little
l Stainless steel crowd control Stanchion post
l KT board notice board on crowd control Stanchion post
Stainless steel crowd control Stanchion post
Conventional stainless steel crowd control Stanchion post on the market in daily life does not seem to be too different, are with 2 meters or 3 meters long telescopic isolation belt, placed in public places or isolated products when connected to use. But the careful customer found a stainless steel railing seat that has a straight tube and the size of the head rod two differences, the use is no different, just two styles are different.
Straight stainless steel column crowd control Stanchion post as the name implies is the column seat column from top to bottom is the same thick, optional 63mm diameter or 76mm diameter two, telescopic isolation belt can also be installed respectively 2 ~ 5 meters long belt
Then the size of the head is the head of the telescopic isolation belt to be larger, the middle column to be smaller. The normal collocation is like this: 2 meters or 3 meters long with the upper tube telescopic head diameter 63mm, the middle tube column diameter 50mm; 4 meters or 5 meters long with the upper tube telescopic head diameter 76mm, the middle tube column diameter 63mm.
KT board notice board on crowd control Stanchion post
KT board railing seat notice board is also called airport notice board, and conventional notice board is also made of movable insertion cap set in crowd control Stanchion post-column above, above with screws to fix a horizontal bar, the horizontal bar is groove type, there are 0.8cm, 1.2cm, 3cm three sizes of groove, can be matched with three thickness of advertising board, general advertising board are Is the customer's own custom foam type or acrylic, directly inserted in the noticeboard's crossbar groove.
KT board railing seat notice board will not be stable? Some customers who see the picture will feel the advertising content directly in the groove will not touch it will fall out, this safety issue will be taken into account for the majority of customers, there are in the bottom of the side of the border design punch, is used specifically to lock the billboard, can be very good to fix the card surface so that it is not easy to fall.
ZHUHAI LAICOZY IMPORT&EXPORT CO., LTD. produces crowd control Stanchion post following international standards ISO, CE certification, quality and consistency to provide world-class products and services to meet the requirements of customers. ZHUHAI LAICOZY IMPORT& EXPORT CO., LTD. can provide customers with high-quality products without the need for a large number of low price restrictions.