A variety of hotel professional luggage cart for your choice
Views: 6 Author: Site Editor Publish Time: 2019-11-21 Origin: Site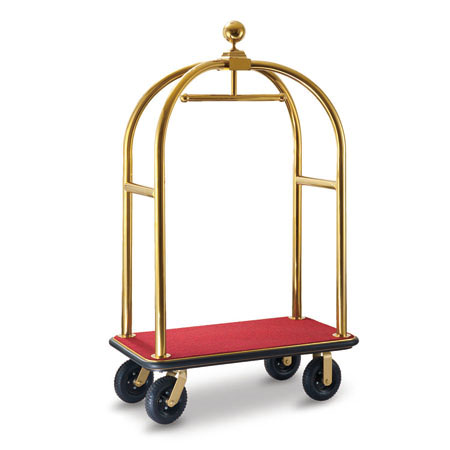 We are a professional manufacturer which specializing in the production of hotel luggage carts. We are committed to providing high quality professional products for hotels. And we constantly improve product quality and develop new products to meet different needs of the hotels.
We have different types and sizes of luggage cart for your choice. At present we have more than 10 different styles of luggage carts. Not only the big size luggage cart with four wheels, but also the small size luggage cart with only two wheels. They can meet the different usage and requirements of hotels. Customers can choose the style which they like.
We have launched a new chassis for the hotel luggage cart, this is a surface made of vinyl material. This new vinyl deck chassis is available in all our laundry trolley models; the difference is that we replace the regular carpet surface with the vinyl deck surface. The advantages of vinyl deck surface are easy to clean and durable. This kind of material is used commonly at home floor adornment; it is waterproof and dustproof, clean easily, and very durable also. In additional, compared to the conventional carpet chassis, this vinyl deck chassis has more colors and patterns to choose from and is also very beautiful.
As for our hotel luggage trolley, we choose the better material stainless steel 304, the tube size is 50mm, and the tube thickness is 1.0mm. We have the better quality than other suppliers in the market. As for surface treatment, that can be polished, brushed, titanium gold finished and black finish. The black finish is the new available color, it is matt black. As for wheels there can be also 4 options as black pneumatic wheels, black hard wheels, grey hard wheels and chrome pneumatic wheels in size 8 inches. Generally the four wheels are two fixed wheels and two swivel wheels.
We also have better quality in accessories and production process. Other manufacturers are using black iron screws, which will be easy to rust after long time or the wet environment, causing the difficulties of installation or disassembly. We use galvanized screw to prevent rust effectively. And we are advanced in welding technology, after polishing there is no welding marks.