Fighting with Novel coronavirus
Views: 3 Author: Site Editor Publish Time: 2020-02-20 Origin: Site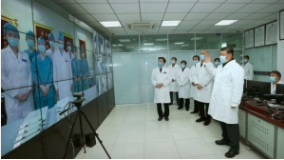 Novel coronavirus pneumonia has occurred since the outbreak, All Chinese people conscientiously implement the instructions made by general secretary Xi Jinping and Premier Li Keqiang on epidemic prevention and control. Unite as one, unite as one, fight the epidemic together. At present, the epidemic situation has improved. Up to now, there have been no new cases of coronavirus in many areas, and the number of cases increased in many areas has been greatly reduced. At the same time, more and more patients have recovered and left the hospital. With the decrease of the daily growth of the disease, the number of patients cured every day is greatly increasing. The growth trend of the epidemic has been greatly reduced, and the epidemic has been effectively controlled with the efforts of all of us. I believe that in the near future, we will completely defeat the new coronavirus, and each of us has absolute confidence.
Because the situation of the epidemic has been reduced, our company has begun to operate. LAICOZY was set up with an aim to be a central contact point between the various factories owned and operated by the group. The group owns several factories like Hotel equipments factory, Banquet Furniture Factory, Crowd Control Systems factory, Hotel Furniture Factory Apart from the products that LAICOZY group manufacturers, we also have excellent relations with other A-Class manufacturers who do OEM for us for us for various Hotel Products. Each employee of our company will not neglect the prevention and control of the epidemic while ensuring the perfect completion of the work. Our office is also in strict safety and health prevention measures:
1. We disinfect the office every day.
2. each employee measures his / her temperature twice a day to keep it clean.
3. Besides, everyone will not take part in group activities outside, so as to ensure that we will not be exposed to the virus to the greatest extent.
4. Every day, everyone records their physical condition and uploads it to the Internet. They try to minimize contact with others and unnecessary going out
Prevention and control of novel coronavirus is something we all have to do, but we must do well in providing high quality products for our guests. We will try our best to do everything well. Thank you for the concern and expectation. We will live up to our expectations.
If you need to place an order, if you are still hesitant, please do not hesitate, the epidemic will not affect our friendship, we will still provide you with the best service. We have confidence in our country, and we hope our guests have confidence in us. It will be a great honor for us.