LAICOZY booth NO 11.2D21-22 at the 124th Canton Fair from Oct 23-27
Views: 59 Author: Site Editor Publish Time: 2018-10-17 Origin: Site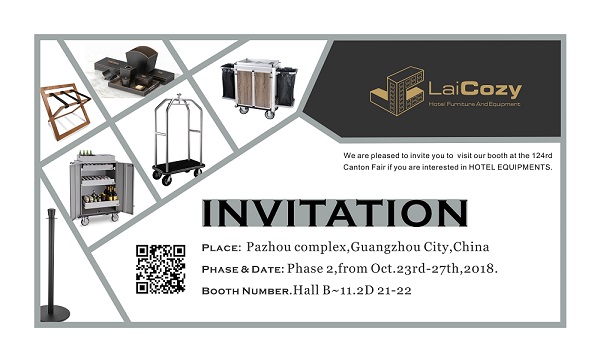 The 124th Canton Fair is opened!
Canton Fair is a comprehensive international trading event with the longest history, the largest scale, the most complete exhibit variety, the largest buyer attendance, the broadest distribution of buyers' source country and the greatest business turnover in China. The Canton Fair serves as the first and foremost platform to promote China's foreign trade, and a barometer of the foreign trade sector. It is the window, epitome and symbol of China's opening up.
The Canton Fair is an outstanding platform for Chinese enterprises to explore the international market. Our company LAICOZY is a professional hotel supplies company. Our product range includes rich professional hotel products. We attend the Canton Fair every spring and autumn each year; because it is a very important opportunity for us to find our new business partner and also a good chance to meet our regular customers. In addition, we can launch some new products at the fair and show them to the customers.
We are please to invite you to visit our booth at the 124th Canton Fair if you are interested in hotel equipments. We will attend phase 2 from Oct 23rd to 27th, 2018. Our booth number is Hall B, 11.2D21-21.
For the 124th Canton Fair we prepare not only our competitive regular products, but also some high quality new products. As for our regular products, such as our 304 stainless steel material luggage cart, aluminum construction housekeeping cart, banquet chairs and table, stanchion post and retractable post, room dustbin, and the HOTELINE serie of hotel room items. For example, ironing board, steam iron, iron holster, welcome tray, electric kettle, luggage rack ,hair dryer, room safe box, weight scale, leather set. As for new items this time we launch a new luxury vinyl deck material chassis for luggage cart. It has 6 kind of different wood grain patterns and available in all our luggage cart models. We launch this new vinyl deck material chassis, which can provide a new choice to the customers, and also meet various needs of different hotels.