New hotel items at the 124th Canton Fair
Views: 5 Author: Site Editor Publish Time: 2018-10-24 Origin: Site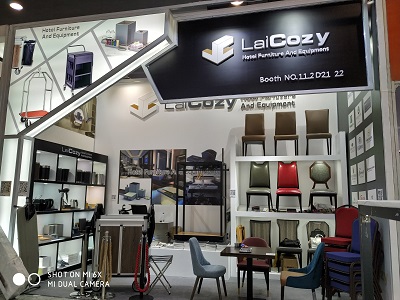 The Canton Fair held in spring and autumn each years since 1957 in Guangzhou.As the greatest and highest level trade fair in China,it has long history,covers all kinds of goods.Buyer from all over the world will come to visit,it's an outstanding platform for Chinese enterprises to explore the international market good chance to find new customers and meet with regular ones.Known as ''China's first Exhibition'',it has strengthened the trade relations between China and the world.
If you are in hospitality industry and are looking for hotel related products,welcome to visit LAICOZY,our booth No.:Hall B 11.2D21-22 from Oct.23rd-27th.
LAICOZY is professional hotel supplier for 15 years, Laicozy always target 4-5 star hotels to provide better quality products and competitive prices for distributors. Since many years in the industry, Laicozy has accumulated vast experience and connections and can get better price than the market. Thus we can help hotel suppliers to source and purchase all kinds of hotel related items. Below are the customers who have received our service and have cooperated with us for 14 years.
With the help of Dubai parter, Laicozy have developed new brands "ZEKE & Hoteline" last year,which are made for international 5 star hotels. After one year of effets we successfully market products in HILTON, SHERATON, Radisson Blu, Rodha, Fairmont and have gained their recognition on quality.
We covers wide products range,like lobby,banquet,outside,guestroom,bathroom etc.equipments,main products like luggage cart&rack,housekeeping cart,crowd control post,banquet chair,room service trolley&hot box etc.We're in position to provide complete hotel projects solution to our customers.
This time in canton fair,our lacquer and leather set are popular with visiters,for their nice appearance and high quality.
The stacking banquet chair is asked by many customers,we have aluminum and iron chair,different from $5-6 banquet chair in market,our chair is better,we have perfect welding technology,after welding,we'll polish,so it doesn't leave marks,and joints is stronger.Besides,we use mould sponge,is high resistance and not easy to deform.
Also this time we show our new luggage cart,we use vinyl base to instead of carpet.So what's vinyl?is a material like PVC,but more environmental.Its advantage is easy to clean,dirty and water proof as well.If you have used luggage cart with carpet,you will know carpet luggage cart is very easy to get dirty,and don't waterproof also.
If you interest in our products,and want to see our sample directly,welcome to our booth.
And see our e-catalogue download link https://www.laicozy.com/download.html .LAICOZY will be your reliable hotel partner.