Hotel popular stainless steel laundry carts
Views: 6 Author: Site Editor Publish Time: 2020-01-15 Origin: Site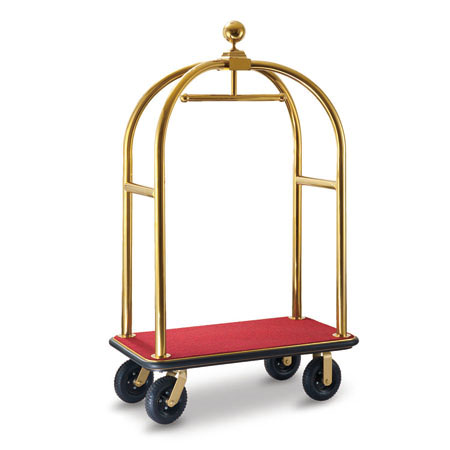 Do you like travelling? Would you like to choose some high-end hotels in the tour?
Have you ever noticed the beautiful luggage cart in the superior hotel?
·The use of hotel luggage cart
The use of hotel luggage cart regulations: luggage trolley as the use of a tool in hotel public area, as well as the lobby is a facade of the hotel, the bellboy will be able to use the bellman cart safety, quickly will deliver the baggage to help the guest room in the hotel's service level. At the same time, it is necessary to avoid damaging the guests' luggage and hotel items during the use of the hotel, causing unnecessary loss to guests and hotels.
Normally, our hotel luggage trolley are made of 304 stainless steel material with durable thick tube , and finished can be titanium gold, polished or brushed, different finished meet with different price, same with other metal items, but carpet colors can be choose free in general color options. Most of the star hotels like gold finished with red carpet, do you know why? Because it looks more luxury and high- end for a hotel, as we known the hotel always like using gold color articles to decorate lobby, corridor, even hotel room. It seems stay in golden ocean. And there are two special functions of titanium gold finished, one is corrosion-resistant and one is anti-oxidation, this two performances are very important for a luggage carts, since hotel needs to use it every day in anytime in any weather, this would help a lot.
Our company LAICOZY was set up with an aim to be a professional hotel supplies company that can offer a variety of professional hotel products. Our product range includes rich professional hotel products. Among them the bellman cart is one of our competitive products.
·The different types of luggage trolley.
There are different types and sizes of luggage trolley for your choice. At present we have more than 10 different styles of luggage cart available. Not only the big size luggage cart with four wheels, but also the small size luggage cart with only two wheels. They can meet the different usage and requirements. Customers can choose the style which they like. As for the carpet of bottom base, we have four carpet colors for choice as red, blue, black and grey normally.
As for our stainless steel luggage carts, we choose the better material 304 stainless steel, the tube size is 50mm, and the tube thickness is 1.0mm. We have the better quality than other suppliers in the market, because many other factories usually use 38mm tube size, the tube thickness is 0.6mm and material is stainless steel 201. As for surface treatment, that can be polished, brushed, titanium gold finished three kinds. For wheels there can be also 4 options as black pneumatic wheels, black hard wheels, grey hard wheels and chrome pneumatic wheels in size 8 inches. Generally the four wheels of the wheeled luggage carts are two fixed wheels and two swivel wheels.
We also have better quality in accessories and production process. Other manufacturers are using black iron screws, which will be easy to rust after long time or the wet environment, causing the difficulties of installation or disassembly. We use galvanized screw to prevent rust effectively. And we are advanced in welding technology, after polishing there is no welding marks.