Housekeeping cleaning carts
Views: 10 Author: Site Editor Publish Time: 2019-12-05 Origin: Site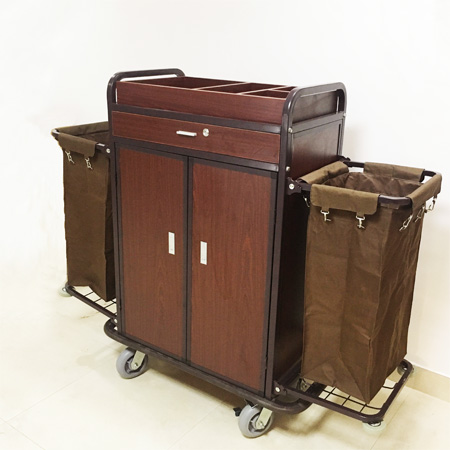 Housekeeping means performing all the duties towards cleaning, maintaining orderliness, and running a house or a business property. In case of hotels, the housekeeping duties involve maintaining the hotel to the best possible state in terms of cleanliness, and keeping it at highly desirable ambience.
The housekeeping staff needs to clean various guest rooms, guest bathrooms, and a number of public areas in the hotel. The staff needs to take the help of various cleaning equipment while trying to keep the hotel premises to the highest standard of appearance.Housekeeping cleaning carts is an important tool in room cleaning.
Housekeeping maid carts allowing your staff to bundle cleaning utensils, chemicals, and used linens all in one unit.
Laicozy offers a high-quality range of chambermaid trolleys for Housekeeping so that everything behind the scenes runs like clockwork. The housekeeping cleaning carts versions are equipped can be easily and nimbly moved and controlled. Laicozy product range includes a steel housekeeping maid carts, aluminium housekeeping carts, plastic maid carts . The Housekeeping range also includes a large selection of handcarts,transport trolleys as well as coat racks and luggage stands.
Besides,it is very good quality and durable and have a good design of our housekeeping cleaning carts.We are used good quality material to produce the hotel housekeeping trolley. So you don't have to worry about quality.
Each hotel housekeeping trolley we offer is designed to easily fit inside standard-sized elevators so your cleaning crew can take their housekeeping cleaning trolley carts to any floor, while the high-grade casters make transportation effortless. Plus, with so many models at your disposal, you're sure to find hotel housekeeping maid carts that work for your business.
Here, you can find hotel housekeeping cleaning trolley that are made in a variety of colors, including black, brown, and more. In addition, we carry metal housekeeping carts that can work as all-in-one units for the best in convenience, while other models steel housekeeping maid carts are specifically made for different areas in hotel rooms, like mini bars. With bumpers, locking doors, side storage, and a variety of other features, we have a small hotel housekeeping maid carts that can work in any setting.
Besides, full wrap-around vinyl bumper on the aluminium hotel maid cart. It can prevent the housekeeping cleaning carts from being badly hit. and the wheels we are used standard 6 inch non-marking wheels. It allows the hotel housekeeping maid carts to carry more weight and load more items. And two of 4 wheels are with break to fix easily.3 levels for clean linen which can adjustable .This design of hotel aluminium housekeeping cleaning cart can be available to meet different requirements.