How to choose a durable retractable post?
Views: 2 Author: Site Editor Publish Time: 2021-08-13 Origin: Site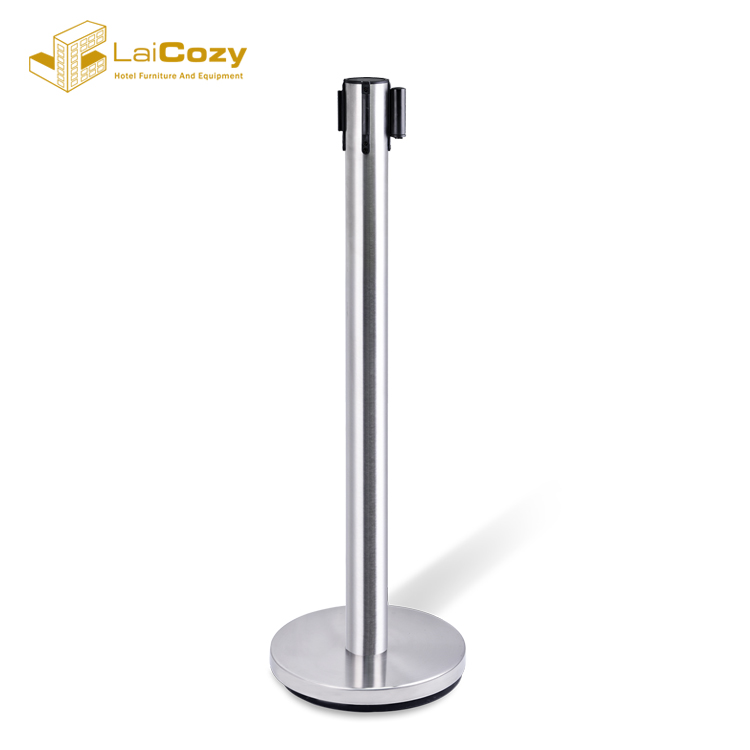 The retractable post is durable and can withstand large amounts of pedestrian traffic, offers permanent wall-mounted mode or standing options, and has replaceable components that save your business money. Instead of replacing the entire strut, you can replace only the broken parts. The retractable post uses an internal spring mechanism to release and retract the nylon straps, which are stored on their own in a canister attached to a post or wall piece. Now let's take a look at the factors to consider when choosing a durable retractable post.

Here is the content list:
 The retractable belt
 Retractable post stand
 Manufacturers
 Color
The retractable belt
The retractable belt is used in hotels, stores, shopping centers and other occasions, which will naturally appear advanced. The nylon belt of the retractable post is mainly divided into the American suede D - type head and the British S - type head. American suede D type belt, A quick suspension lock can be realized by pressing a button. The durability of the retractable post can be greatly improved by the choice of good quality belt.
The retractable post stand is made of three materials: paint, stainless steel and titanium alloy, with multiple colors available. To choose durable crowd control retractable post, can choose stainless steel titanium plated railing seat, with nano anti-fingerprint coating, through the spherical nano particles and the metal surface is closely combined, the formation of a smooth surface with luster, not only antifouling easy to clean, and color and lustre is more mature. The selection of retractable post stand, the most important thing is not easy to rust, can be easy to daily maintenance.
Manufacturers
Selecting a well-known brand and manufacturer is the guarantee of the quality of retractable post. Well-known brands have good after-sales service, even if there are some problems with the purchase of crowd control retractable post, we can also be replaced very well. At the same time, we can also consult about the products we bought.
Color
The belt and the base of the retractable post are an important part of it. The color is only the appearance decoration of the crowd control retractable post, and you can choose it according to your preferences. The color difference does not affect the durability of the retractable post.
The retractable post, also known as the crowd control barrier, consists of three parts: the pole, the base cover and the base weight. The retractable post has a retractable band at the top, which can be pulled out and attached to another post when used, and arranged in a row or circle to form a square polygon according to the actual situation, as an isolated exhibit or dangerous area. Choosing a durable crowd control retractable post will increase its efficiency and save us money.