Laicozy hotel & household new indoor bin brand -- Gina dustbin
Views: 0 Author: Site Editor Publish Time: 2021-08-25 Origin: Site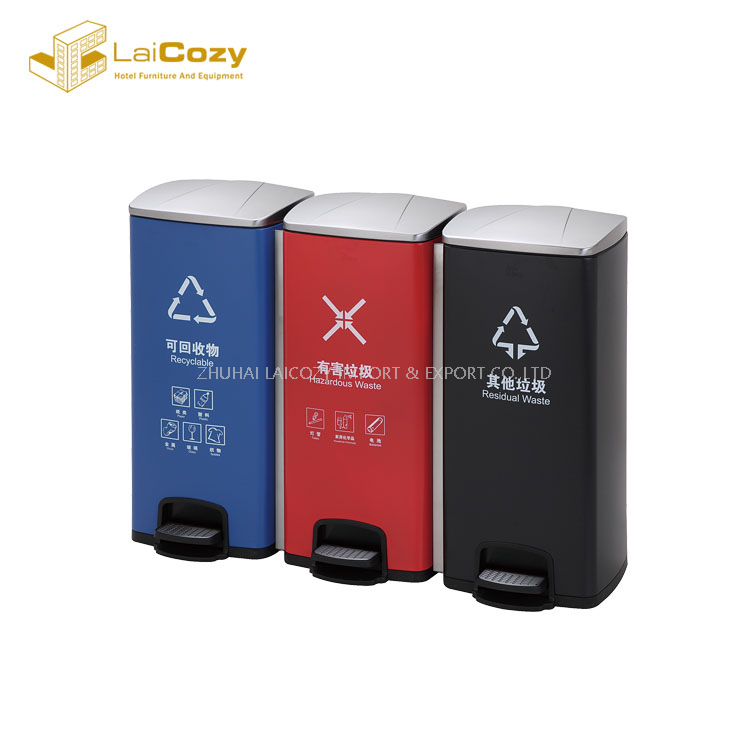 Gina is the brand of our company's indoor dustbins.It represents the leader of health and environment equipment,intelligent and high-quality requirements,and more than the industry standard requirements for R&D and production.With the awe of human environmental protection life, relying on superb technology,advanced equipment,perfect testing and excellent team,we constantly optimize the production process to ensure the first-class products.
Now people have a very strong sense of environmental protection now. The dustbins play an important role in environmental protection.We usually can see the dustbins in everywhere now.So when you walk down the street or other places, you will can see clean and tidy
The waste bins can help people to collect the rubbish. Since we have the rubbish bins, people will not litter everywhere. It can keep the street or other places clean and tidy.In order to meet the needs of the market, our company has developed a variety of trash can,single rubbish bins combination, two metal dustbins combination, three stainless steel rubbish bins combination , four trash bins combination and so on.
Our hotel lobby double bins use the good quality stainless steel,inner bin use good quality plastic bucket. Besides, our stainless steel dustbins have S/S Anti-Fingerprint. The S/S surface of the stainless steel rubbish bins is treated with FPR coating(oil removal,rust removal,brushed stain treatment,glazed treatment and so on...),which makes it delicate and smooth. No matter how the fingers touch the good quality stainless steel dustbins,there will be no residue left on the fingerprint. Besides, our metal indoor dustbins is waterproof,greasy and dry for long time use.
By the way,now you know the purpose and importance of the litter bins.Let me talk about the kinds of trash bins. There are many kinds of the waste bins, For example, according to the material,it can be stainless steel rubbish bins, metal indoor dustbins, plastic rubbish bins. According to the purpose, it can be lobby waste bins, garbage bins indoor, outdoor dustbins. Room dustbins and so on.
Our good quality stainless steel dustbins can be used indoors or outdoors. in hotels or in airports, stations and other public places. In addition, there are recyclable and non-recyclable garbage bins, as well as more classified rubbish bins. Customers can choose the trash can according to the actual needs.
Our stainless steel dustbins is a very good design inner bucket for the dustman of the hotel, since this kind of stainless steel dustbins makes their work more convenient and faster,convenient cleaning.Hope these introductions will make you interested in our hotel lobby waste bins.