Luxury hotel Luggage trolley
Views: 21 Author: Site Editor Publish Time: 2019-09-09 Origin: Site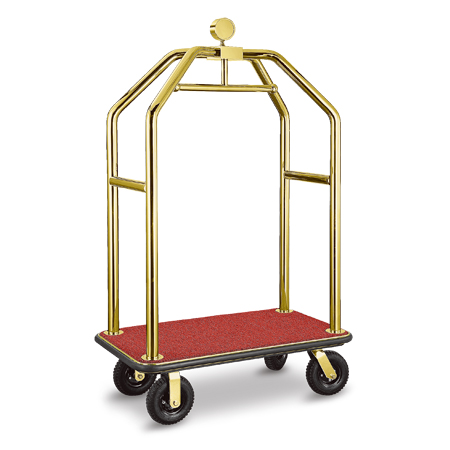 Star hotel lobby has specifical trollies for guests carrying luggage. A traditional designed bellmans cart that looks great and is completely functional.Easily transport your guests' suitcases, boxes, bags, formal attire, and more with ease using this Good quality hotel Luggage trolley! It stands 1840Hmm high to accommodate large quantities of luggage, and the top clothing rail is ideal for hanging jackets, suits, dresses, and other delicate items.
Besides, a Luxury hotel Luggage trolley can make your hotel look more upscale. Usually the titanium gold color will make the luggage cart look more luxurious.
As the manufacturer for luggage cart, housekeeping cleaning carts, banquet chair etc, we always target 4-5 star hotels to provide better quality products and competitive prices for all distributors all over the word.
We supply all kinds of luxurious lightweight hand truck dolly and carts with the fashionable and elegant appearance, guaranteed quality and durability. These stainless steel luggage carts are the best choices for hotels.
The material of all our hotel luggage trolley can be replaced.If the ground laid for carpet, we recommend to use Pneumatic casters for the baggage cart.TPR wheel is hard to move on the carpet.There have two sizes 6 "/ 8" available of the TPR wheel.According to customer needs, we can change the stainless steel luggage trolley carpet to the demountable carpet, that'll convenient to clean.
The hotel luggage carts is constructed out of fully welded, 51mm stainless steel tubes with an attractive chrome finish to complement any decor, and the 1120*610 top grade carpet platform creates a soft spot to rest expensive luggage or packages. Thisstainless steel luggage trolley can be easily maneuvered thanks to the four 8" wheels on the bottom of the unit. It's perfect for use in your hotel, motel, spa, convention center, or other luxury establishment!
Each stainless steel luggage trolley is made with top grade carpet with various color for choice.
And the carpet helpshotel luggage trolley prevent boxes and items from sliding off the baggage cart.This carpet also protects your items from scratches and damage that may occur during transport.Around the deck is a wrap-around bumper that helps to protects walls andfurniture should the stainless steel hand trucks dolly be bumped into them.We usually use gray/black/red/blue color carpet for our metal hotel hand truck trolley.
All of our hotel luggage carts come with smooth rolling casters, making it easier to navigate around tight corners and through small spaces. Many also come with carpeted floors to protect the luggage being transported. By using bellman carts in your establishment, the process of carrying heavy loads from the lobby to guests' rooms will be much less strenuous.