Stainless steel hotel handrail post with different material
Views: 5 Author: Site Editor Publish Time: 2020-02-17 Origin: Site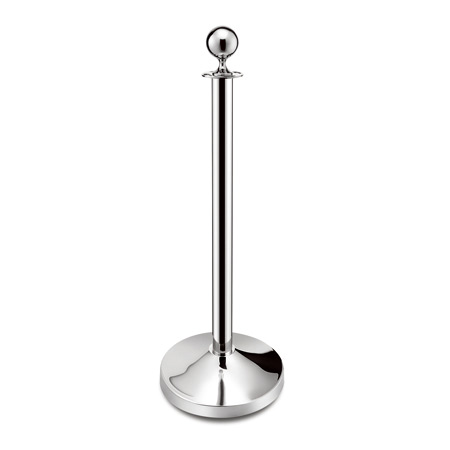 In hotel, when you are checking in rooms, you may see some posts in front of reception, do you know what it call? This products really help our life, and you can see it anywhere, so how do you know about stanchion post?
This article contains the following:
n Where it use?
n Material
n Color option
n Design option
1、Where it use?
It's call handrail post, but also call stanchion post, it is widely use in any where, when you come in a hotel, restaurant, supermarket, lobby , you can find the stanchion post everywhere,such like hotel restaurant, station, airport, shopping mall, supermarket, subway ,hospital, these places you may see more. Even these small items may not catch your attention, but it is really helpful for the shop, hotel stations, and already get into our life.
2、Material
For hotel, to use material is 201 stainless steel is very normally, but some customers may want steel material which more cheaper than 201stainless steel, but most of our stanchion posts we use 50mm tube size with 201 stainless steel, it's durable enough for handrail post. For high standard customer, they may want better material, 304 or brass, this may depending on customer's request, we can do customized, but cost will different with our normal posts, some 5 star hotel would like to make order this one, but too expensive for small hotel.
3、Color option
Except the material, there are have many finished color options for customer to choose, normal finish color is titanium gold, polish and brush,black, customer can choose what color they need. It's no doubt that different color cost different, gold color price may a little bit higher than others, most of the clients like gold finish to fit for their hotel decorative, as gold color looks luxury for a hotel.
4、Design option
.
Normal stanchion post has several types with different design, it can be rope barrier, retractable belt post and sign post, they can use in different public occasion .So hotel can choose some different posts for their different events. If need rope barrier, client also need to buy some ropes. If choose retractable belt post, client also can customize the belt to put their logo, it's special for a hotel. If sign post, then hotel can put some information on the board to notice customers when they come in hotel.All these posts can help hotel to make things orderly.
Since the posts with different design, but all are similarity to maintaining things orderly, to helping us to make things smoothly, that is handrail post.