Aluninium Housekeeping Carts for Hotel
Views: 16 Author: Site Editor Publish Time: 2019-09-30 Origin: Site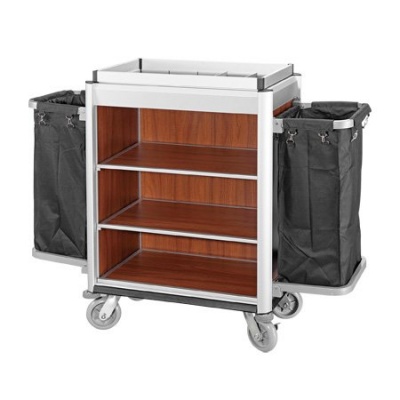 Housekeeping means performing all the duties towards cleaning, maintaining orderliness, and running a house or a business property. In case of hotels, the housekeeping duties involve maintaining the hotel to the best possible state in terms of cleanliness, and keeping it at highly desirable ambience.
In a lot of hotel, we can see the housekeepers use the hotel housekeeping maid carts. Since a big hotel will have many rooms,a hotel housekeeping trolley will can carry a lot of things for convenience and time saving.
What is the use of a housekeeping cleaning carts or trolley? The ones I am familiar with are used by housekeeping staff (such as maids at hotels) to transport cleaning supplies (spray bottles of cleansers, paper towels and the like) and room resupply materials (fresh bars of soap and shampoo, toilet paper, towels, sheets, glasses, etc.) This way the cleaning staff does not have to constantly go back and forth to supply closets when setting up rooms for new guests (or cleaning rooms for existing guests.)
Housekeeping carts, like those used by commercial cleaning services, can be purchased directly from manufacturers. Retail home improvement stores and cleaning supply companies also carry housekeeping carts in a variety of shapes and sizes.
We are professional hotel supplies company,that can offer a variety of professional hotel and catering products.As the manufacturer for Metal housekeeping carts.We always target 4-5 star hotels to provide better quality housekeeping carts for hotels and competitive prices for all distributors all over the word.
Our hotel housekeeping trolley is one of the best -selling products overseas. The housekeeping cleaning carts frame material can be aluminium or steel.
Aluminium version is more lightweight, stronger and easy to move. The most important is not easy to rust.Besides, improve the efficiency of housekeeping tasks by equipping your hotel staff with this Metro heavy duty aluminium housekeeping carts. Storage space to accommodate a wide range of cleaning supplies and disposable room products. we use the aluminum tubular construction with inset laminated panels, and side holder with foldable design ,overall size of this cleaning carts for hotel is 1545*510*1135mm, helping ensure that everything has a place on the cart for easy transport and delivery.full wrap-around vinyl bumper on the aluminium hotel maid cart. It can prevent the housekeeping cleaning carts from being badly hit. This housekeeping cleaning carts with wheels, and the wheels we are used standard 6 inch non-marking wheels. It allows the hotel housekeeping maid carts to carry more weight and load more items. And two of 4 wheels are with break to fix easily.