Requirement /maintance of Maid carts
Views: 821 Author: Site Editor Publish Time: 2018-06-13 Origin: Site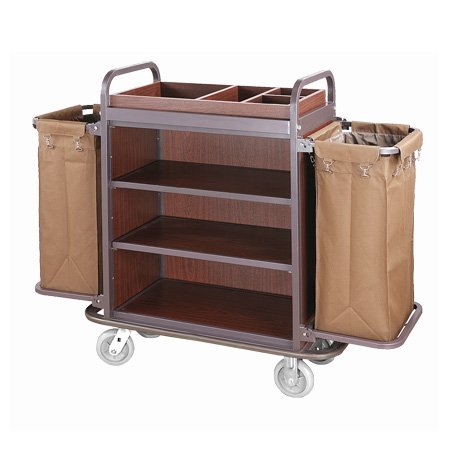 Housekeeping Maid Cart is a trolley (also referred as a housekeeping trolley or room service trolley or aluminium housekeeping trolley) which is used to stock all necessary guest supplies in accordance with the allocated numbers of rooms that are required by housekeeping department in effectively performing hotel operations.
Housekeeping Maid trolley is a very effective housekeeping tool as it is capable of carrying large amount of supplies and equipment. Even a room attendant cart or a chamber cart is also can perform as a cleaning equipment by removing and carrying of cleaning materials, soiled linen and garbage. Use of aluminium maid cart can reduce the valuable time of a housekeeper as it provides an assurance regarding availability of all guest supplies together. The small maid cart or aluminium frame maid cart is usually positioned in the linen room where other housekeeping supplies are also stored. These housekeeping maid trolley are available in both metal and wood.
Responsibility of Room Attendant
The housekeeping maid trolley is generally handled by the room attendant who is responsible for proper application of hotel maid cart including cleanliness and maintenance. To ensure smooth operation and to avoid unwanted events the room attendants should execute the following functions:
1.Check the supplies against the provided checklist before forwarding into room service.
2.Maintain the housekeeping trolley in a well-organized manner which is beneficial for easy availability of supplies
3.To bring hygienic tone and make it appealing, the aluminium maid cart should be cautiously maintained and stored locked.
4.Place the small maid cart along the corridor wall to avoid any collision during cleaning.
Requirements of Maid's Cart
An ideal housekeeping maid cart must fulfill the following requirements:
1.There must be expansive space in the cart that it able to carry all those supplies which are required by a room attendant in a particular workday.
2.The aluminium frame maid cart should be easily movable by the maid as it contains large amount of supplies.
3.To make it easily movable a perfect cart would have fixed wheels at one end and castor –wheels at the other.
Maintenance of Housekeeping Cart
A hotel maid cart is very significant part of housekeeping department so it must be handled and maintained with careful hand and proper care. To make it long lasting and to make the best use a room attendant or a housekeeper must take the following steps:
1.The room or the place where the maid cart will be positioned must be dry area and well ventilated.
2.All housekeeping carts should be thoroughly cleaned and wiped daily.
3.The soiled linen bag and thrash bags that are kept in the maid cart should be emptied at regular basis.
4.The wheels of housekeeping trolley must be well-made and oiled intermittently with expert hand.
5.All the linens and supplies should be properly organized in the hotel maid cart after each sift that it make easier to replenish extra item.