The Durable and design for hotel housekeeping cart
Views: 12 Author: Site Editor Publish Time: 2021-07-21 Origin: Site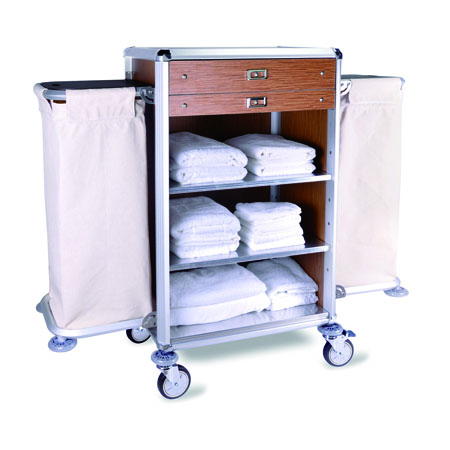 In general, Housekeeping carts widely use in any hotel, it's not about the size of the hotel size, but about the powerful use of housekeeping maid cart. To save the human sources and material in a utmost extension. when you check in different hotels, you may see different carts in each hotel, but they are in same function. In some small apartments or guesthouses, they are willing to buy the small maid cart to clean their rooms, because it's really useful and save a lot of time. Useful housekeeping maid cart make every hotels laundry clean smoothly and save their cost in human sources.

So let's introduce housekeeping cart.
Durable
Normally, there are have some different material options of housekeeping cart, like aluminum, steel , and plastic material, but different material has their own features. For example, the advantage of aluminum housekeeping carts are more lighter, though lighter, and looks more high class, but someone may thought aluminum material not strong enough than steel material carts. Maybe there with some misunderstanding of aluminum material, actually, aluminum material maid carts also can be very strong, powerful, and durable, after we upgraded the production process of housekeeping carts,all our carts can use more several years if under normal usage. Certainly, the material of aluminum also has some other options, but we choose the thick one, thus, so our carts would strong and stable enough. For steel material and plastic material housekeeping cart, the cost will much cheaper than aluminum housekeeping carts, so this will depends on hotels budget and choose what they want. Of course, we also can customize the cart you need if you have drawing, but high cost.
Design
Different design of carts cost different, but the most different is the cart that if needed door and drawer or not, also the side bag details. There is no doubt that if need doors the price must more higher. However, most clients would choose one with door and drawer, especially for star hotels,they want it with door and drawer, it would looks more tidy and ordered when hotel stuffs cleaning rooms, and the customers would looks very neat and clean, and if have drawer, would more helpful for them to put the amenities or some small things. Though with door and drawer cost much than without door types, but it's worthy to do so.
For the side bag, there can be two bags or one bag, bag color also can be black beige coffee,etc.. we also have small side maid carts, which for the small hotels and easy delivery.
Therefore, to choose a good hotel housekeeping carts will be very helpful for a hotel, since there are so many designs and some detail functions for maid cart, we will try to design more hotel housekeeping carts with more functions to improve cart performance, let's look forward it.