Hotel used laundry cleaning trolley
Views: 15 Author: Site Editor Publish Time: 2019-11-18 Origin: Site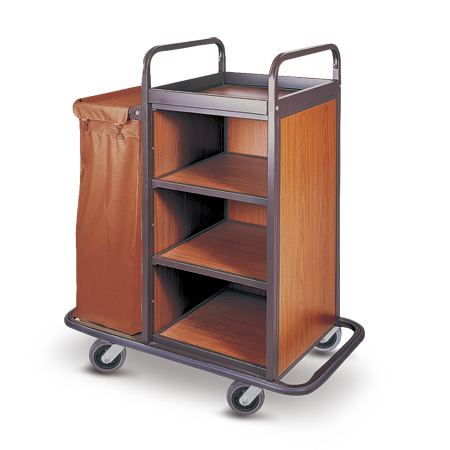 General speaking, there are a lot of different hotel housekeeping maid carts widely use in hotel, when you travel and live in a hotel,you may see housekeeping carts when staff cleaning in hotel. Laundry trolley is very useful for a hotel, you may see different cart with different design, but they are in same function, to clear hotel rooms, make every hotel laundry clean smoothly, Thus, it's necessary for hotels to buy housekeeping maid carts.
There is no doubt that every factories have their own design housekeeping laundry trolley, one bag, two bags, three bags,or side bag, or use different material, but in fact, the most common material options are, aluminum, steel, plastic. To choose the material of carts base on the budget or the design of the carts you request. For the laundry trolley, we have normal one, which with stainless steel and a color bag, we sale a lot of this kind of cart every year. This normal carts, can fit any hotels, if they don't have special request. However, some high star hotel, they would like to use some more high-class type with aluminum or other material for housekeeping. Of course that more special maid cart will cost more than normal one, but for most normal hotels, cost-effective one is enough and can use for a long time.
Hereby we have some new laundry trolleys, it's the hot sale type and we are promoting now.
The new laundry cart has two size, one bag and two bags, the two bags cart size will bigger than normal one. And material can be choose stainless steel or aluminum, the advantage of aluminum laundry carts are more lighter, and looks high class, though lighter, aluminum material maid carts also can be very strong, powerful, and durable, after we upgraded the production process of housekeeping carts, all our carts can use more several years if under normal usage. If use stainless steel, also can choose the finish, brush or polish. And color of bag also with many options, like brown, black, beige, customer can choose what they need.Beside the bag color, the wheels also has different size, 4 inch PPR, 5 inch PPR, also demand by customer request.
The new carts with same function as the normal one, but looks more fashionable.
Therefore, to choose a good hotel housekeeping carts will be very helpful for a hotel, so it's indeed to know more well about laundry carts.